Our landscapes are home to many beautiful tried-and-true garden flowers: daffodils, roses, Russian sage, or daylilies for example. And while we'll never tire of seeing the first sunny yellow blooms of daffs in spring, or a rosebud opening up to welcome the warmer months, there is a whole host of less-prevalent blossoms that are equally pretty and easy to maintain in Northeastern climates. Ready for a flower re-fresh?
Keep reading to find out more about three species that will up the wow factor of any property—starting with some of our favorite early-spring beauties.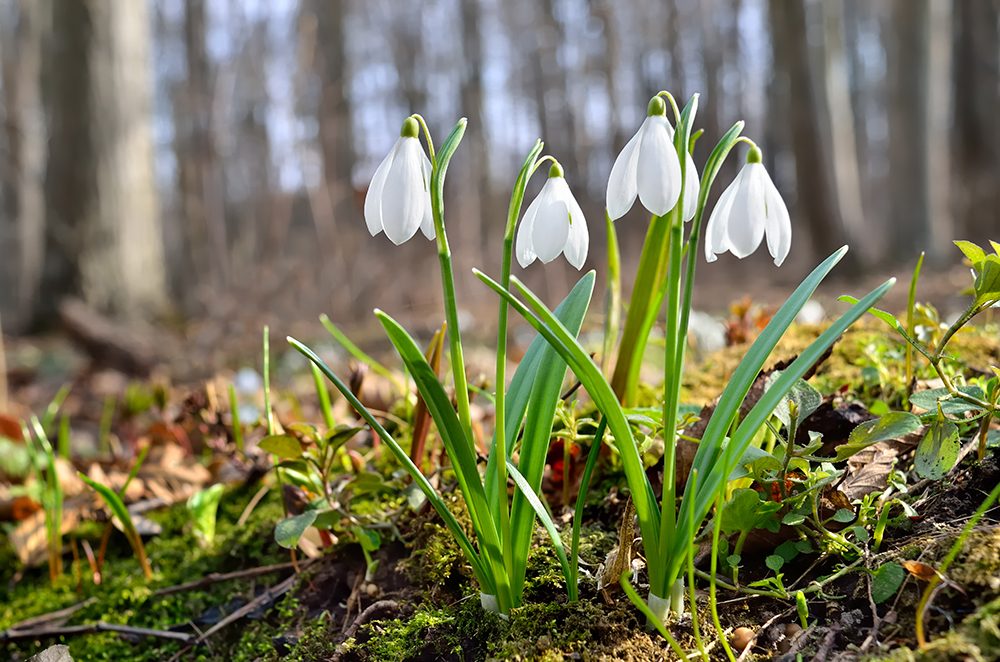 Snowdrops (Galanthus nivalis)
Just as it seems winter will go on forever, the snowdrop rears its delicate, white, bell-shaped head letting us know that spring is on the way. Before blooming, the plant's leaves pop out of frozen ground, and even up through snow, in March—or earlier, if the season has been mild. Snowdrops grow from bulbs, but unlike daffodils or tulips, for example, which are planted in fall, these are planted in late spring. Grow them in pots, so you can add touches of white around your property. Or, place them in small groups around the edges of flower beds, in woodlands, and by streams. Left alone, the snowdrop will naturalize and spread, creating drifts of dainty blossoms that bob in the wind.
Hellebores (Helleborus orientalis)
Another pre-spring flower, and a lovely companion for snowdrops, is the hellebore. An incredibly hardy perennial, it flowers in February and is available in a range of hues—from dusty pink, to pale yellow, to creamy white, to deep purple and more; plus, some hellebores' petals are speckled or striped. Its large, tough leaves are evergreen. The hellebore is shade tolerant, making it the perfect addition to less-sunnier places in the landscape, including under trees. Allow Hellebores to self-seed, and you'll end up with interesting hybrids of your original plants.
Grape hyacinth (Muscari armeniacum)
The grape hyacinth got its name due to its densely formed spikes of purple-blue flowers that resemble little bunches of grapes. Make no mistake, however, these charming early spring bloomers aren't actually related to hyacinths (another popular spring blossom). But, they are just as effortless when it comes to adding color to the landscape. Like snowdrops and other spring-flowering bulbs, muscari are easily grown in pots and also have a dramatic effect when allowed to naturalize in the landscape—think carpets of blue putting out the welcome mat for spring.